Scalable cultivation technologies.

LIA - Main unit
Analysis and calibration
Taking a sample from the hydroponic system tank, it carries out an analysis of the values, then prepares the right quantity of nutrients and stabilizers to be dosed for the correct growth of the plants.
It is the part that deals with calibrating and keeping the pH and EC sensors functioning.
Patent 102017000031730
Stream selector
It allows to diversify the cultivation, up to ten hydraulic doors, which flow into the analysis module through a tube.
All this can be managed in an automated way and by selecting how many systems you want to manage, analyze and irrigate.
Thanks to the principle of external sampling, it is possible to carry out analysis and dosage cycles on several different lines. Patent pending
Smart dispensers
The dispensers can be connected up to a maximum of 12 components. They use NFC to intelligently manage quantity, using a licensed patent. The smart dispensers are compatible with the taps of the nutrient tanks, it is possible to use up to twelve for each LIA unit. Each can be chosen from three different sizes of peristaltic pump depending on the flow rate requirements. The perfect solution for those with food intolerances.
LIA - DESIGNED TO BE SCALABLE
The only fully automatic control unit for hydroponic systems, LIA was created to be a scalable and versatile management device. Thanks to Wallfarm's patented technologies, today you can grow up to ten different lines of plants at the same time, with different sizes and hydraulic system. All without even one manual water analysis. From seed to harvest!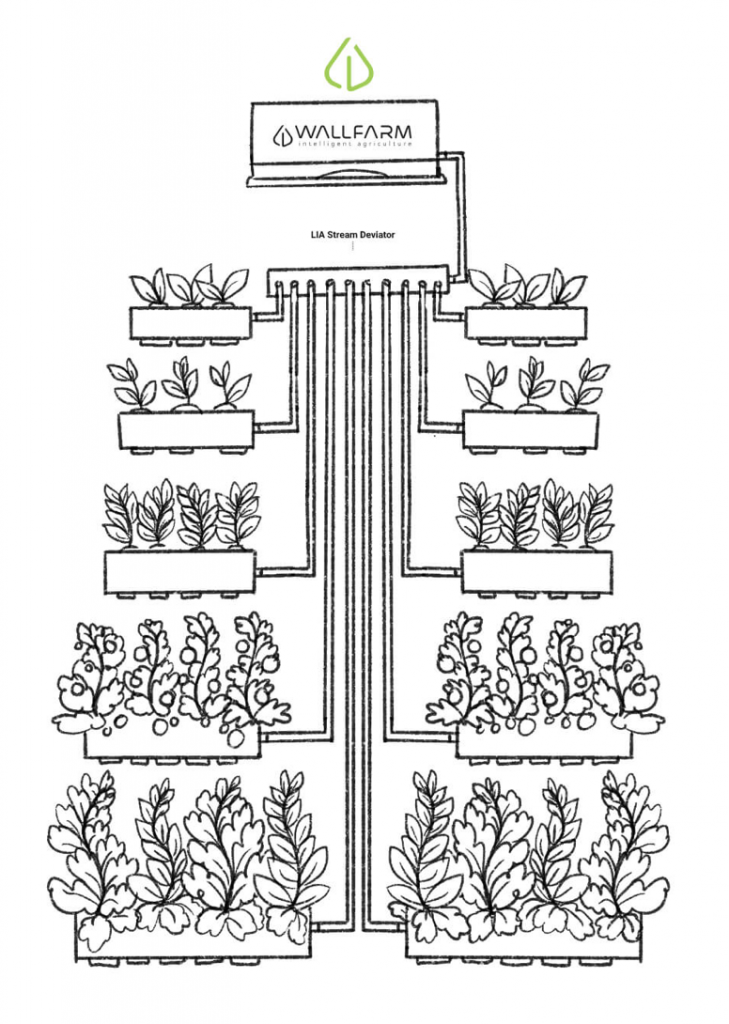 Auto-calibration
The innovative patented technology allows to calibrate the sensors automatically.
Auto-analysis
Autonomous management of water analysis and correction cycles.
Auto-dosing
Automatic nutrient dosing based on the analysis of the nutrient solution.
Timing
Connect and time all complementary devices, such as lights, aerators and pumps.
Line management
Simultaneously manage up to 10 cultivation lines with different programs.
Choose your size
Our dispensers can be equipped with different peristaltic pumps (80-500 ml / min).
Data collection
Access your private area and check the specific data of all your crops.
Catalogue
Choose from the available recipes, try the latest news or develop new recipes with us.
App
All your growing systems always under control thanks to the Wallfarm app.
Community
Share your results with other Wallfarm growers community around the world.
Custom systems
We are at your disposal for customized design and consultancy activities.
Get more
Work with the best automation system on the market, spend less, get more.
The perfect tool for a greener tomorrow.
"..LIA is the ideal development platform to increase precision and efficiency. The only product to offer such wide scalability as it can also operate fully independently..."
"....WallFarm porta il concetto di idroponica direttamente nel tuo ufficio o nel tuo salotto di casa, semplificando una tecnologia complessa. A loro ingegneria, ICT e design, a te resta solo da raccogliere i tuoi pomodori. Insomma, voler bene alla Terra senza sprecare la terra..."
"...Il progetto che potrebbe rivoluzionare l'approccio all'alimentazione, e alla cucina, delle realtà più disparate..."
"..Orti sulle pareti dei palazzi, sui tetti, all'interno delle case. Nel giro di 30 anni ci saranno 9 miliardi di bocche da sfamare e quattro quinti delle terre coltivabili sono già utilizzati. Per nutrire il pianeta una delle frontiere più promettenti è proprio la produzione domestica del cibo.."
"Niente sforzi per la coltivazione dei nostri ortaggi preferiti, grazie all'orto verticale di Wallfarm: ci pensa Lia la tecnologia contadina pensata da una start up italiana"
Strong skills
Automation

- (100%)
Design

- (82%)
Scalability

- (95%)
Saving time

- (90%)
User friendly

- (88%)
Our Startup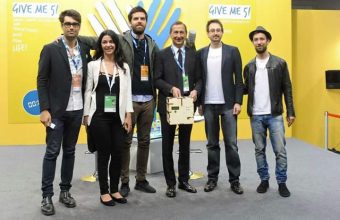 Wallfarm is a company that produces innovation dedicated to soilless cultivation techniques. Thanks to our patented solutions it is now possible to rethink the concept of precision cultivation.